News
Exhibition Stand Technology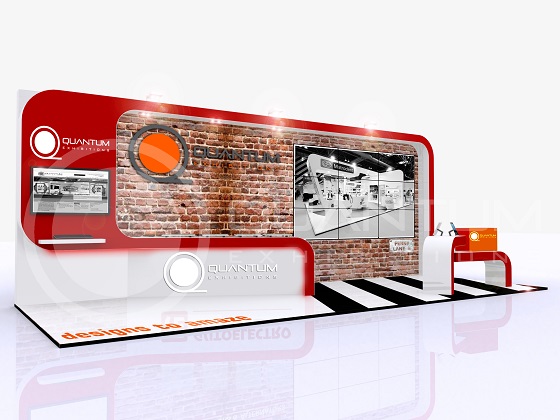 Quantum Exhibitions Ltd. are always looking at new ways to make our clients stand out and in turn to be the exhibition stand supplier of choice.
Exhibitions in essence are a simple tool. You have a product or service and you want everyone there to see your product and in turn sell more and be more successful. That is all well an good when there might be a 100 companies selling and offering the same thing.
How do you stand out? How do you make a statement in a sea of competition?
There are a 1000 ways to stand out from the crowd, but one tool we are going to discuss in this blog is integrating technology on your exhibition.
So what Exhibition Stand Technology is available?
The tech utilised on exhibition stands can range from a HD TV right across to 3D Hologram systems. depending on what budget you have, and depending on how you think to use it. Our advice here at Quantum would be invest in using tech to it's upmost, in conjunction with what you want to highlight at any given show, whether it be branding or a specific message, product info and spec or company information, use it to cram as much detail as possible so, when that possible lead walks past they have all the information they need.
In other words don't rent a video wall, and have your logo beaming across for 4 days. Instead use it to display key USP messages or display products. Company videos, get the most out of your event, and it will then become a serious ROI.
Here at Quantum we can integrate any piece of tech into your stand, so you end up with a  seamless stand, with both products, branding and tech all next to each other working symbiotically in a stand designed to impress!
So what is available?  here is a list our favourite Exhibition Stand Technology we have used in the past:
HD TV up to 90″
Video Wall
Ipad's/small touchscreens or android devices
3D Projection systems
Interactive Grafitti Walls
If your interested in how Quantum can integrate Exhibition Stand Technology at a trade event you and your team are attending, why not give us a call on +44 (0) 1422 201 696 or email us on info@quantumexhibitions.co.uk