News
Expo Flooring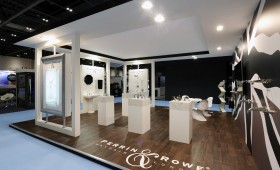 What is Expo flooring? – Wood, Plastic, Carpet……….
So expo flooring, not the most 'sexy' exhibition topic, but nevertheless an important one. It is surprising how many clients have a strong opinion about specific requests to do with flooring either from experiences from exhibiting previously, and sometimes unfortunately negative ones.
What is actually under there? is it always the same?
The simple answer is no. Different companies use different methods, some use plastic modular metre squares, which are ridged, re-suable, and essentially similar to lego blocks. We use timber bases, which are constructed, and customised to fit the specific design. other companies merely lay carpet over the floor without a constructed floor.
So why do you need a floor under you stand? Well yes on any stand that requires power points, lighting, internet, water & waste. Having a floor allows you lay these cables anywhere you want. If you wanted a tv on the corner of the aisle on your stand the power either has to come over the soffit (roof) or preferably more neatly under the floor.
Utilising timber flooring is better because if your stand design requires elements that need power that don't fit in this ridged metre squared system, these plastic systems become obsolete.
Expo floor coverings
The two common coverings are vinyl or carpet.
Carpet – (Pros) The great thing about carpet is it's soft on your feet, sounds trivial, but the amount of people that come and say, can you make it softer? and at the end of the day, your team need to stay fresh and comfy, and on there feet all day, to understandably justify the costs. The addition of carpet can really make a big difference. Carpet can also  have inserts to have 2 colours or some basic patterns, graphics and logos however would be very expensive in a carpet finish.
Carpet – (Cons) Any spills, will stay more visible. Often clients entertain on their stands, maybe cocktails at 4 is something that happens, a glass of beer or wine all over your stand with 3 days to go till the end of the exhibition can make all your hard work defunct. Depending on your use, carpet could be nightmare to keep clean – but you can vacuum at least!
Vinyl (Pros) If you are in the medical/dental & pharmaceutical industries then you will see those clean white floors. The pros are that, fresh clean, crisp exudes from something so simple as a vinyl covering. It is also wipeable if there are any spills. Graphics can be inserted so if you fancy key branding or a logo on your stand's flooring.
Vinyl (Cons) It is definitely not as cosy on your feet, it can be harder. It can also scuff with certain shoes, again over 3 or 4 days these can build up. Sometimes stiletto marks can also appear, which is worth noting.
So now your an expert on Exhibition flooring, why not give us a call on +44 (0) 1422 201696 or email info@quantumexhibitions.co.uk