News
Pro2Pac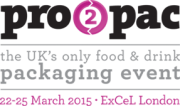 Pro2Pac
Pro2Pac is a biennial show and is one of the Uk's largest food and drinks event hosted at the ExCeL Centre London, In conjunction with IFE and Waste works The amalgamation of all three events quite literally caters to all aspects of the food and drink industry. Pro2Pac specialises in the food packaging and preparation industry and in 2013, the three events had an amazing 1,120 exhibiting companies from around 55 countries.
The 2015 Pro2Pac show was an exciting time for Quantum Exhibitions & Displays Ltd. we had the pleasure of working with Byworth Boilers who have been manufacturing industrial boilers since 1968 and have a wealth of experience in the industry. They produce steam, hot water, waste heat and biomass boilers, and offer extensive boiler training and boiler hire, all year around. Byworth Boilers latest steam boiler and hot water boiler ranges are already making an impact on fuel usage for many blue chip organisations, and a continued R&D investment programme is in place.
Quantum have helped many companies in the past to achieve exhibition success in all sectors of the industry, by combining unique company branding with our excellent designs and sketches we create a unique experience for both our clients and visitors that attend, which in turn can maximise profits for companies, it is noted that of all B2B Marketing, Exhibitions remain the most successful in making new business relations, networking and increase of sales.
If you are interested in a bespoke exhibition stand at other event why not contact us on info@quantumexhibitions.co.uk or call us on 01422 201696.